Did you catch all the hard-to-spot things during your first binge-watch of The Dragon Prince?
SPOILERS BELOW
If you've watched The Dragon Prince on Netflix, you might have caught a few special things throughout the show, or maybe you didn't. Here's a fun guide for things to look for that you may have missed!
1. In episode one, Claudia is seen reading a book that is a direct callback to Avatar: The Last Airbender. Did you see which book it is?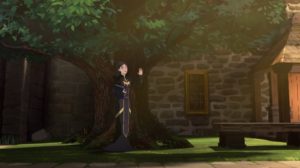 2. The shape of Harrow's crown is inspired by the Uneven Towers, the emblem of Katolis. Did you know you can find the symbol on the kingdom's weapons, armor, and architecture? See if you can spot each time it shows up!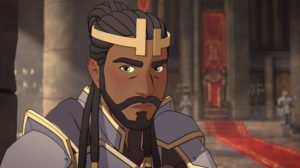 3. We learned in episode five, An Empty Throne, that Rayla isn't too happy about traveling by boat. Did you notice two other moments in earlier episodes where Rayla couldn't hide her fear of water?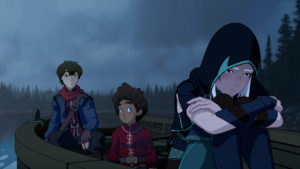 4. Soren might have spent the first three episodes being a jerk to Callum — calling him the Step-Prince, knocking him on his butt, and making fun of his heavy, shiny armor. But if you look close, you can catch a moment in episode three, Moonrise, when Soren proves he won't hesitate to risk his life in the Step-Prince's defense.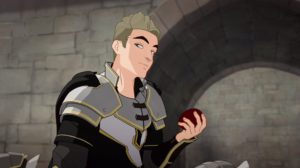 5. In episode five, An Empty Throne, Amaya heads back to defend The Breach, a critical location on the border between Xadia and the Human Kingdoms. You've already seen The Breach — and General Amaya — in a previous episode! Can you find where?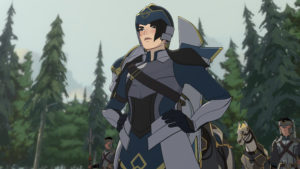 6. Ezran opens up at the beginning of episode nine, Wonderstorm, about his ability to talk to animals. Did you catch any other times earlier in the season where Ezran was able to understand how animals (or dragon eggs) were feeling?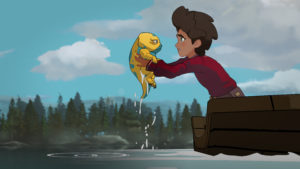 7. Corvus, General Amaya's elite tracker, is introduced in episode four, Bloodthirsty. You can see Corvus twice on the grounds of the Banther Lodge before Amaya calls for him — see if you can spot him.
8. All magical creatures are connected to a Primal Source and have some of its magic inside them. In episode five, An Empty Throne, Callum learns that his Rune Cube can reveal a creature's primal energy. Did you catch which Primal Source Bait is connected to?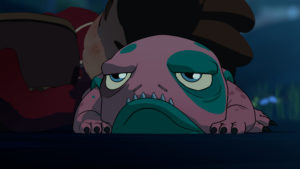 9. If you've finished the season, you now know that the spooky creatures on the Cursed Caldera in episodes eight and nine are just illusions. The sounds and voices of the creatures might sound familiar. Have any idea who could be behind them?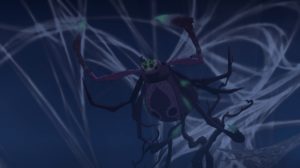 10. Finally, if you skipped the credits on your first binge-watch, be sure to watch them the second time around! There are a ton of cool sketches and a few hints of things that happened off-screen. Is Corvus back on the trail of the gang? And who gave Callum his sketchbook?